Save 10% Site Wide Today Only – Use Code SMALLBUSINESS At The Cart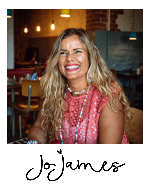 Hello,
My name is Jo James, and in 2014, I founded Jo James Jewellery in Plymouth, Devon. In the beginning, it started as a single twist bracelet crafted up in my kitchen; then, it rapidly developed into a full-on love affair.
My brand continued to grow, so I then started jojamesjewellery.com. To this day, I have managed and developed a small homegrown business into what it is today.
My customers, local stockists and consultants, have helped shape the business. Today is Small Business Saturday, a day to celebrate small businesses in the UK. As a small business owner, I appreciate every order that comes in and have always strived to provide the best possible products and service.
As a little thank you to all of my customers, I wanted to give you a discount to use on this day. You can get 10% off today by using the code SMALLBUSINESS at the cart.
Thank you to everyone who has supported my small business and thousands of other small businesses in the UK.
I hope you have a wonderful weekend.