Our Recent Blog Posts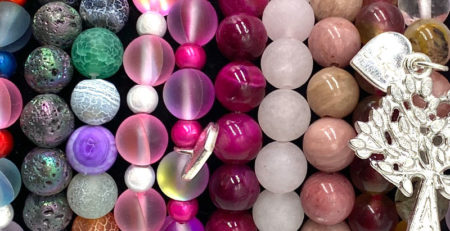 Healing stone jewellery is one of the hottest trends in the accessories industry today, and it's easy to see why.... read more
We are looking for enthusiastic, self-motivated people who want to be their own boss and earn an extra income. Become a consultant with Jo James and sell our beautiful products at market leading commission rates.
Introduce your friends to beautiful handmade jewellery by hosting your own party, and earn a little something extra for your generosity. There's just too much to love about Jo James jewellery to keep it all to yourself. Let the party begin!
About Jo James Jewellery
Launched in 2014, Jo James Jewellery is the West Country's most vibrant supplier of beaded accessories for men, women, and even little ones. What started out as a single twist bracelet, crafted up at the kitchen table by Jo, rapidly developed into a full-on love affair. Jo views jewellery as an outlet for her creativity and innovation. Focusing exclusively on bold, bright, and uplifting pieces, Jo has earned a reputation for being the leading provider of beaded jewellery in Plymouth, and beyond. Jo James Jewellery offers beautiful glow beads, and designs that range from fun, on-trend themes to chic and timeless classics.
The company is built on a foundation of accessibility. Jo personally believes that uplifting jewellery, and accessories that elevate mood and offer a lively pick-me-up, shouldn't be costly or exclusive. That's why Jo James Jewellery was launched; to make bold and vibrant accessories more affordable and more accessible than ever before. Jo aims to ensure that everyone can add a touch of colour to their day-to-day look.
Beaded Jewellery In Plymouth
The Jo James Jewellery brand was originally launched in Jo's hometown of Plymouth. It's a place famous for its rich maritime heritage. Jo credits the shimmering light reflecting off the surface of the English Channel as a big inspiration for the brand's core product: sparkling glow beads that twinkle in the light.
As the brand continued to grow, Jo decided it was time to launch her own online store, bringing her designs to jewellery lovers all across the country. However, in staying true to her West Country roots, Jo partners with numerous stockists across Devon, ensuring the business always remains close to home. Today, Jo is dedicated to designing beaded jewellery Plymouth residents, and everyone else, will adore.
Glow Beads
With a love for all things vibrant and light, it comes as no surprise that Jo's core product is glow beads. Glow beads have been cited as one of the hottest jewellery trends today. Light-reflecting materials in a range of bright and eye-catching colours create an optical illusion that truly glistens and gleams.
Iridescent and almost otherworldly in their appearance, glow beads form the basis of many Jo James Jewellery designs. From bracelets and necklaces to earrings, anklets, rings, and more, Jo James designs are known for their hypnotic and futuristic glow.
Boasting a real passion for innovation, Jo loves designing new pieces, and continuously launches unique collections throughout the year. That's in addition to the range of must-have seasonal delights; limited-time designs that have been specially created to add a touch of festive flair to any outfit.
Our Handmade Jewellery Ranges
Whether it's necklaces or rings, or any one of the items within the Jo James accessories range – which includes everything from lanyards to keyrings – every piece offered by Jo James jewellery is different. 
However, they all have one thing in common: they're all handcrafted by Jo herself at the Jo James workshop located in Devon. With a strong commitment to unwavering quality and consistency, Jo is proud to make each and every piece herself. Every item is handmade to order with care, attention, and love. Jo is dedicated to challenging the damaging world of fast fashion, shunning mass-produced pieces in favour of making small-batch, limited edition, handmade items which are all unique.
As Jo produces each piece by hand, the talented jewellery designer is often able to accommodate commissioned pieces, designing and crafting one-of-a-kind items that tell an individual's own story.